Modern Contractor Solutions Magazine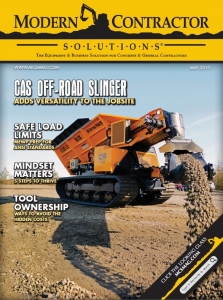 May 2019
Licensing Concerns for Expanding Construction/Design Firms
Success in business is often commensurate with growth.
But growth in construction and design is loaded up with risk, due to the many legal and regulatory requirements governing a business, from licensing to the right to conduct business in specific states throughout the United States of America.
Fair to say that a company's failure to conduct a thorough due diligence evaluation of legal requirements before expanding operations into a new state will more than likely lead to fines, discipline, and an impediment to working in that state/jurisdiction. The savvy leader of a construction/ design firm will not let enthusiasm for growth drag the company into risk. Consider these checkpoints to manage that risk.
Business entity formation. Each state in the U.S. has its own laws outlining the requirements for companies to work there. Unfortunately, laws are not uniform from state to state. A company's legal entity in one state does not mean that it can simply operate in another state. Each state's Secretary of State governs the process for allowing companies to enter that state's business market. State laws regulate the types of entities that companies can form (corporations, limited liability corporations, partnerships, etc.). State laws also limit what types of businesses may establish particular entities.
For example, some states strictly regulate companies providing professional services, such as architecture and/or engineering (A/E) firms. Some states require A/E firms to form professional corporations; a general corporation will not suffice. Other states require A/E firms to use the word "professional" in the name of the company. Another consideration: State laws may apply differently to local companies than to companies that are from another state ("foreign" entities). Due diligence requires design/construction firms to evaluate the destination state's corporate requirements for the particular type of business in question. The steps may be as simple as completing and filing paperwork as a foreign entity in the destination state; or the process could be as complicated as creating a new domestic entity in that state with a new name as prescribed by the laws of that state. A prudent company will have a staff member dedicated to the due diligence process; someone who is well-versed in the questions and concerns that are generally raised and is able to consult with legal counsel when necessary.
Licensing requirements for design professionals. Equally as important as the corporate formalities are the licensing requirements for each state/jurisdiction. The U.S. has 55 licensing jurisdictions1, each of which has a Licensing Board with the legal authority to determine the required qualifications to obtain licensure and practice there.2 Each U.S. jurisdiction also has its own statutes and rules governing licensure, practice, and discipline.3 As a result, design professionals' multi-state practice is little more than a trap for the unwary.
These statutes and rules impact, for instance, the requirements for initial licensure and continued good standing, when a license is required to practice, whether a design professional must be licensed in order to offer to practice in the state, what types of structures/systems require the involvement of a design professional, the code of professional conduct, and the process for discipline of licensees for violating the statutes and rules.4
Some states, like Minnesota, require a license before a professional can offer to practice in the state.5 Thus, design professionals must do their personal due diligence on the requirements of any other jurisdiction before making an overture for work there, not to mention entering into a contract. Design professionals must also adhere to a number of local rules, laws, and codes as they perform their professional duties on any given project, with the paramount ethical concern for design professionals being the protection of the public health, safety, and welfare.6
Licensing requirements for design firms. In addition to personal licenses for the A/E, state laws may require the design firm itself to obtain a license or certificate of authorization to provide professional services in the state.
The process of obtaining a certificate of authorization often involves multiple steps including the state licensing board and the Secretary of State. In essence, the process confirms the entity is in good standing, has met any specific state requirements, and has appropriate licensed professionals to render service in the state.
As with entity formation, each state has its own requirements and timelines, such that the A/E firm cannot predict when or if it might receive the certificate of authorization. For that reason, the prudent path includes early inquiry and procurement, so the company has the authorization when it needs it.
Licensing requirements for construction. Each state also has its own requirements for the licensing of residential, commercial, and/or specialty contractors.7 A contractor who performs work without proper licensing may face discipline, fines, and/or prohibition from working in that state. In addition to licensing, contractors generally must obtain permits from the local authority in advance of the specific work to be performed. The prudent contractor will do its due diligence on a state and local level to be fully apprised of any and all licensing and permitting requirements before taking steps to work there.
Tax implications. No list would be complete without considering the tax implications of business expansion into another state. Every state has a department of revenue with the prerogative to establish tax requirements on business income/earnings. The prudent design/construction company will consult with a trusted tax advisor prior to expanding into any state, to determine what taxation that state requires.
1 U.S. licensing jurisdictions include all 50 states, Washington, D.C.; Guam; Marian Islands; Puerto Rico; and Virgin Islands.
2 See links to all U.S. and foreign licensing jurisdictions for engineering and surveying, ncees.org/state-links/; links to all US jurisdictions for architecture, www.ncarb.org/getlicensed/ licensing-requirements-tool.
3 See id.
4 See id.
5 Minn. Stat. 326.02, subd. 1.
6 See, e.g., NCEES Model Rules (Aug. 2016) at p. 12-21, and at p. 12, Model Rule 240.15 ("Licensees shall be cognizant that their first and foremost responsibility is to safeguard the health, safety, and welfare of the public when performing services for clients and employers.")
7 See, e.g., state contractor resources at www.agc.org/industry-priorities/contracts-law/state-law-matrix or generalcontractorlicenseguide.com/directorygeneracontractor-license-requirements-every-state/
About the Author:
Kristine A. Kubes, kristine@kubeslaw.com, is a construction attorney and principal of the Kubes Law Office, PLLC, Serving Design and Construction Professionals. A frequent educator and advisor on ethical practice, licensing, and risk management for the design/construction markets, Kristine is currently the national incoming Chair of the American Bar Association Forum on Construction Law. She served as Chair of the MN Board of Architecture, Engineering, Land Surveying, Landscape Architecture, Geoscience & Interior Design from 2009-11. This article does not constitute legal advice. Each case must be evaluated on its own facts.